THE FUN STARTS HERE!! Do you have a favorite recipe? Let's share Coventry's VirtualCookbook with EVERYONE!
If you have a friend from another state (or country!), invite them to share their food and culture. Sometimes a story is involved with the recipe. And who doesn't love a story!

Submit your recipe here
Include your email address and
find a cooking pal!

Ingredients:
1 lb. Salmon Filet
1-2 tbsp butter
1/4 cup slivered almonds
1/3 cup Chardonnay or Zinfandel
2 small zuccini
1 cup No Fat sour cream
1/8 cup milk





CoventryRI.com

This recipe courtesy of Coventry On Line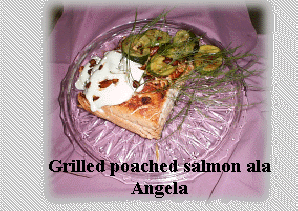 Quick cook instructions:
Wash and poke zucchini. (They should be about
8 inches long and 3 inches around.) Cook in
microwave about 5-6 minutes. Set aside.

While zuccini is cooking, melt butter in
frying pan. When thoroughly melted and
bubbly, add salmon. Brown on both sides.
Add almonds and brown. Set aside.

Cut zuccini in 1/2 inch circles. Add to
salmon and almonds, and saute until lightly
brown.

Add wine to pan, turn heat down to low, and
cover. Cook for about 4-5 minutes or until
salmon is done.

Mix sour cream, mustard and milk. Spoon
over salmon.