THE FUN STARTS HERE!! Do
you have a favorite recipe? Let's
share Coventry's VirtualCookbook with EVERYONE!
We'll try them out and take a pic!
If you have a friend from another state (or country!), invite them to share their food and culture. Sometimes a story is involved with the recipe. And who doesn't love a story!


Submit your recipe here
Include your email address and
find a cooking pal!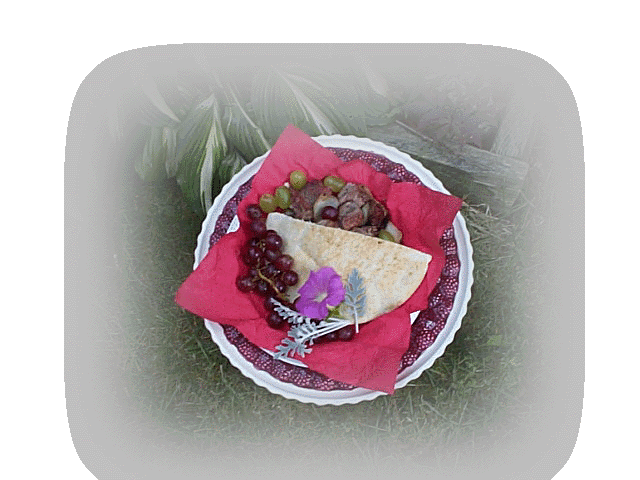 John Ehlinger's
Shamy Family Shishkabob with Pita

John Ehlinger lives in Washington, D.C. and was kind enough to submit this recipe and some great cultural background. Great summer dish for small or large groups. Serve with salads and Sangria!!!
------------------------------------------
John writes:
"The following recipe is an old family recipe that originated in Aleppo, Syria
and was brought to this country in the early 1900's by John and Lily Shamy of
Utica, NY. The Arabic name for it is "La-him Mishwee" which means
Lamb on Skewers. This has always been a favorite of our family gatherings and now I'd like to share it with you. Enjoy!
------------------------------------------

Ingredients :
Meat : You may use leg of lamb or if you want to save some money, its
okay to use loin of pork or beef loin.. Figure on 1 lb per three adults. The meat
must be boned, trimmed for fat and cubed to about 1 and 1/2
inches.
Veggies : Use two medium sized onions, peeled and quartered . Our experience is that other vegetables flavor the meat strongly and take away from the taste somewhat.
Spices : One cup of red wine...burgundy, merlot, etc,. per 1-1/2 lbs. Allspice - 1 tbsp. per 1- 1/2 lb. More or less to taste. Salt and Pepper to taste.

Instructions:
Mix cubed meat, onions, spices and wine in large pot. Marinate
overnight in refrigerator. Minimum 3 hours. Skewer meat and onions and grill
over a hot fire. You may use water- soaked hickory chips on the fire to help
impart a smoked taste to the meat. We line the pot with pita bread after it
has been washed so that the cooked meat can flavor the bread with its juices.
Then the bread is served with the meal.